Looking Up Contacts on Grandstream GRP Phones
Quick Match
Your Grandstream handset can quickly look up contacts added either locally to the phone, or from a synchronised address book.
To do so, press the keypad keys that correspond with the letters of their name. For example, to find Gregory, enter 473 (GRE).
If you have multiple contacts that match, use the up and down arrows to select the correct contact, then press the Dial button to connect your call.
Full Address Book
You can also look up contacts through the full address book on the phone by pressing the Centre key.

In the main menu, press the arrow keys to locate Contacts and press the centre key again to select, then select Local Phonebook.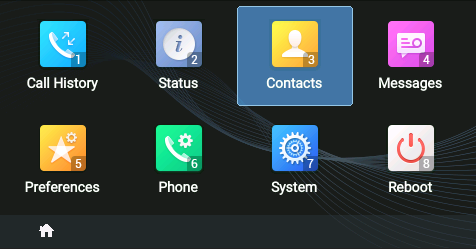 Highlight your desired contact using the arrow keys then press the centre key to view their information. If they have multiple contact entries added, select the number you'd like to use and press Dial.
Managing Address Books
For additional information on synchronising a hosted address book, please see Portal Guide - Address Book